Highest-Converting Marketing Strategies for Tournament Hotels
The key to makings hotels a big part of your revenue is making sure that all teams/travelers are receiving your Booking Link at the right time.
The Lucid Travel team has run THOUSANDS of successful events. Here are the highest-converting places to put your Booking Link.
Adding hotels links to your website is the first step to get started marketing hotels for your events.
Add a Hotel Tab on your Main Menu
Add a Hotel Links to each Individual Event Page
2. Registration Confirmation Emails
Most registration platforms allow you to add custom information to the registration confirmation emails. This is the email people get after they register for your event.
Example for Stay-to-Play Event
Thanks for registering for the Showtime Classic!
Hotels & Loding
This event is Stay-to-Play meaning teams are required to book using the link below. Teams staying overnight are required to book their hotel accomodations through our official housing parnter. Our housing partner will be tracking each team's bookings and will send weekly reports.
YOUR BOOKING LINK
After your team registers, you will recieve an email from our housing partner with access to the accomodations portal. Your team will be able to set up a team hotel block (9+ rooms) or book individually.
Example for Non-Stay-to-Play Event
Thanks for registering for the Showtime Classic!
Hotels & Loding
Discounted hotel accomodations have been contracted for this event. Please use the booking link below to book your hotel accomodations.
YOUR BOOKING LINK
You will be able to request a group room block (9+ rooms) or book individually using the link above. If you request a group room block, a representitive will reach out to you via email to finalize your room block and send you a team booking link. Each member will then be able to access the link to book the team room block.
3. Lucid Travel's Automated Marketing System
Lucid Travel has built a highly automated marketing system that sends Email and Text reminders to your travelers. It's been designed (using conversion data from 1000+ events) to send reminders at the dates/times that travlers are most likely to book.
Watch this video to learn how easy this can be: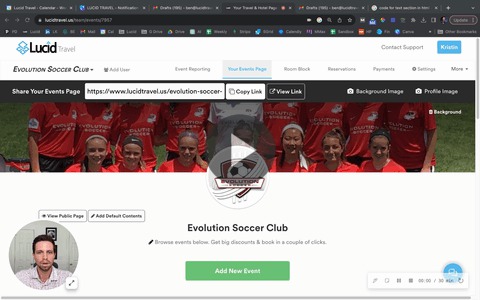 Integrate Lucid Travel with your Registration Software
Lucid Travel has built direct integrations with most of the top event registration platforms in the industry. Once you sign up with Lucid Travel, let your sales rep know who you're using for registration and they will send instruction for how to set up the integration, seemlessly.
This saves SO much time and is very easy to set up.
Send a CSV file of Registration Contacts to sales@lucidtravel.us
You can also just send an email to sales@lucidtravel.us and attach a CSV/Excel file with the following data columns:
| | | | | | | | |
| --- | --- | --- | --- | --- | --- | --- | --- |
| Email | First Name | Last Name | Phone | Position | Team Name | Team ID | Other |
| | | | | | | | |
| | | | | | | | |
NOTE: The only required column is Email
4. Email & Text Communications
You can send emails and/or text communications directly to your Event Contacts with your Booking Link.
Highest-converting Dates to send are 60 days, 30 days, 14 days, and 7 days before the start of your event
Highest converting Times to send are Monday to Thursday between 10 AM and 2 PM
Why Marketing Is Important
The key to making hotels a big part of your revenue is by marketing your Booking Link properly. Lucid's easy-to-use platform and great rates are important but only if your travelers get access to the link when they are looking to book.
Start Making Hotels A Key Revenue Source
If you host large tournaments and events, hotels should be a big part of your revenue. Lucid Travel offers an easy way to get started that's designed to take minimal time to set up and run while optimizing revenue you receive from hotels while delighting your customers.